Posted May 4, 2022 to
News
.
Click here
to view the details of this post.
CALLAHAN, SOPHIA ALICE (1868-1894). Sophia Alice Callahan, known as Alice, is credited by scholars with being the first Native American woman to write a novel. She was born in Bright Star (now Sulphur Springs), Texas, on January 1, 1868, to Samuel Benton Callahan and Sarah Elizabeth (Thornberg) Callahan. As a small child, Alice's father and paternal grandmother survived the federal removal of Muscogee people, part of the Creek nation, from Alabama to Indian Territory (later Oklahoma) in the 1830s. Samuel's father, who was Irish, died from exposure on the trek. Through cattle ranching in Okmulgee, Indian Territory, Samuel Callahan accumulated a notable amount of wealth, including slaves. During the Civil War he served in the Confederate States Army and became captain of Company K of the First Creek Confederate Regiment, then represented the Creek and Seminole nations in the Second Confederate Congress. His wealth provided him considerable political and social influence in the Muscogee community, where he became a justice of the Muscogee Nation Supreme Court. Alice's mother, Sarah Callahan, was the daughter of a Methodist minister in Mississippi and later joined the Women's Christian Temperance Union (WCTU) in Okmulgee, Oklahoma. A few years before Alice was born, her mother fled Oklahoma with her children and an enslaved woman named Clara during the Civil War when a mob burned their home and killed their cattle. They relocated to Sulphur Springs, Texas, where Alice's paternal grandmother and paternal step-grandfather lived, and Alice's father joined them after the war.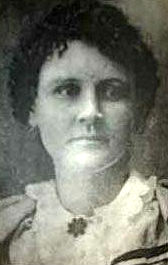 Photograph: Sophia Alice Callahan, born in Hopkins County, Texas, was part Muscogee. She is credited with being the first Native American woman to write a novel. (Image available on the Internet and included in accordance with Title 17 U.S.C. Section 107.)
Alice Callahan had Muscogee heritage from her father's lineage; he was declared one-eighth Muscogee, and she was deemed one-sixteenth by the Bureau of Indian Affairs. She had four brothers and four sisters. The family lived in Sulphur Springs until 1885 when they returned to Okmulgee, where Samuel Callahan had rebuilt his cattle operations. He had apparently traveled between the ranch and Sulphur Springs for nearly twenty years. Alice attended Wesleyan Female Institute in Staunton, Virginia, for ten months in 1877 and 1878, and studied history, languages, the arts, science, mathematics, and religion. She was active in the Muskogee WCTU and wrote for the local newspaper, Our Brother in Red. In 1891, the year her mother died, she began teaching at Harrell Institute and her book, Wynema, a Child of the Forest, was published out of Chicago by H. J. Smith, who produced a variety of titles about politics, social reform, and women's health. Wynema details Creek Indian culture through the eyes of a young Creek woman and her Anglo, southern, female teacher while also commenting extensively on contemporary issues such as women's rights and events such as the extermination of hundreds of Sioux at Wounded Knee Creek, South Dakota, by the U. S. Seventh Cavalry. Alice Callahan earned no money from the book and in 1892 became a teacher at Wealaka Mission School in Muskogee. She and two other young women attended the World's Columbian Exposition at Chicago in the summer of 1893. After her return she taught at Harrell Institute again. She developed pleurisy on December 26, 1893, and died less than two weeks later, on January 7, 1894. Our Brother in Red published a long tribute to her, calling her "Sister Alice," complimenting her "literary turn of mind" and her excellent teaching skills. She was buried in Greenhill Cemetery in Muskogee, Muskogee County, Oklahoma. Wynema remained virtually unknown until 1955 when Oklahoma historian Carolyn Thomas Foreman located it at the Library of Congress and wrote about it in the journal Chronicles of Oklahoma. Scholars interested in indigenous cultures became increasingly aware of it, and in the 1990s they declared it the first novel by an American Indian woman. In 1997 it was republished with a scholarly introduction by A. Lavonne Brown Ruoff. Since that time, the book and Sophia Alice Callahan have become the subjects of numerous papers, articles, and dissertations.