Posted August 7, 2022 to
News
.
Click here
to view the details of this post.
ROLLER DERBY IN TEXAS. Roller derby is a contact sport that combines elements of racing and theatrics, and over its history, there have been several variations of the sport's rules and style. The roller derbies of the twenty-first century have an emphasis on high levels of contact while two teams on roller skates race counterclockwise around either a flat or banked track and score and block points in a series of jams or scrimmages. Banked tracks, shaped like a large bowl, were preferred for most of the sport's history until 2001 when the use of flat tracks, which have no walls and look more like a typical skating arena, was popularized. According to the Women's Flat Track Derby Association league rules, recently revised in 2019, the game is played in two thirty-minute periods, broken into "jams" that may last up to two minutes each during which either team may score. For every jam, the two opposing teams each put five players on the track: one jammer and four blockers. Jammers, designated by a star helmet cover, are the only skaters who score points and do so by lapping the opposing team's blockers. The blockers form "the pack" which plays offense by helping their jammer pass the other team's pack and defense by blocking the opposing jammer from passing them. One blocker may be designated a pivot blocker, denoted by a stripe on the helmet. A jammer may "pass the star" or their helmet cover to their pivot, who then becomes the jammer. The jammer that first passes the pack is designated the lead jammer and can prematurely end the jam. Penalties are called for many reasons but most often for tripping or illegal use of elbows or knees and may result in the offending player being sent to the "penalty box." As many as seven referees call each game. One referee follows each jammer, two check the inbounds on both the inside and outside of the track, one checks the jam time, and two watch for penalties.
It is unclear when roller derby first began in Texas, but Texans had enjoyed roller skating for recreation in the nineteenth century. One of the first roller skating rinks in the state opened in Houston in December 1870. Soon after, rinks opened in Galveston, Dallas, Waco, San Antonio, Bastrop, Henderson, Quitman, Sherman, and Laredo, which allowed Texans to take part in the nationwide "roller skate craze" of the late nineteenth century. Black businessmen in Galveston and in San Antonio opened rinks for African American skaters as early as 1884. Skating rinks conformed to social standards of the day with some rinks hosting regular "Ladies' Night" events, and most being segregated by race.
By 1900 roller skating races, or "derbies" for men, and sometimes women, were common amateur sporting events and local entertainment held throughout the state. The roller derby as a competitive sport began in 1935 when Leo Seltzer, a Chicago entrepreneur and event promoter, combined roller skating and the idea behind dance marathons to create a traveling endurance contest. Co-ed teams of two skaters traded racing around the track for several hours a day for consecutive days to be the first to reach 3,000 miles. Although not the inventor of endurance roller skating, Seltzer was the first to employ women skaters and make it a co-ed sport. Over the next twenty years, roller derby transitioned into a contact sport and it began to resemble the version that became popular in the early twenty-first century. The shift occurred organically when competitors rounded the track and contact occurred between skaters, exciting the audience.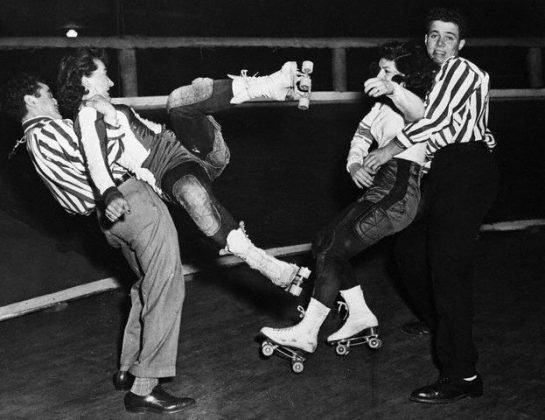 Photograph: Two roller derby skaters in the Seltzer's Roller Derby, circa 1940s. (Image available on the Internet and included in accordance with Title 17 U.S.C. Section 107.)
In 1961 the national Roller Games League organized and competed with the Transcontinental Roller Derby League, renamed Roller Derby League and owned by Leo Seltzer's son, Jerry, since 1959. Roller Games League incorporated more theatrics, including feuds, fist fights, and spankings, into roller derby. Based in California, the league consisted of seven co-ed teams, including the Texas Outlaws, with twelve to fourteen skaters on each team. The games of both leagues were often televised. In 1963 the league moved the Texas Outlaws from California to El Paso. They played home games at the El Paso Coliseum under their coach, Lou Sanchez, a local El Pasoan and former professional roller derby skater. With nicknames such as "Two Tone Toni" and Richie "Sweet Pea" Rapp, the Outlaws attracted crowds excited to see the spectacle of "wrestling on wheels." Certain women skaters, dubbed the "roller queens," with coiffed hair and a dramatic flair for rough play, fascinated audiences as they raced around banked tracks throwing elbows and colliding with competitors. The Outlaws returned to California by 1965 but continued to play in Texas as a touring team. Another California team, the Bombers, toured Texas in the early 1970s.
Seltzer's Roller Derby League shut down in late 1973. The Roller Games League dissolved in 1975. Several professional roller derby skaters, including Sanchez, tried to start their own leagues and training facilities in California but none were successful. The 1980s saw more of these attempts as well as a Hollywood distortion of the game, called RollerGames, which lacked any façade of a sport. From 1999 to 2000 the Nashville Network produced a similar show called RollerJam. Although RollerJam had a team called the Texas Rustlers, the entire show was filmed in Florida and had no connection with Texas. Neither show had considerable success; however, both added to the public perception that roller derby was entertainment and not a serious sport.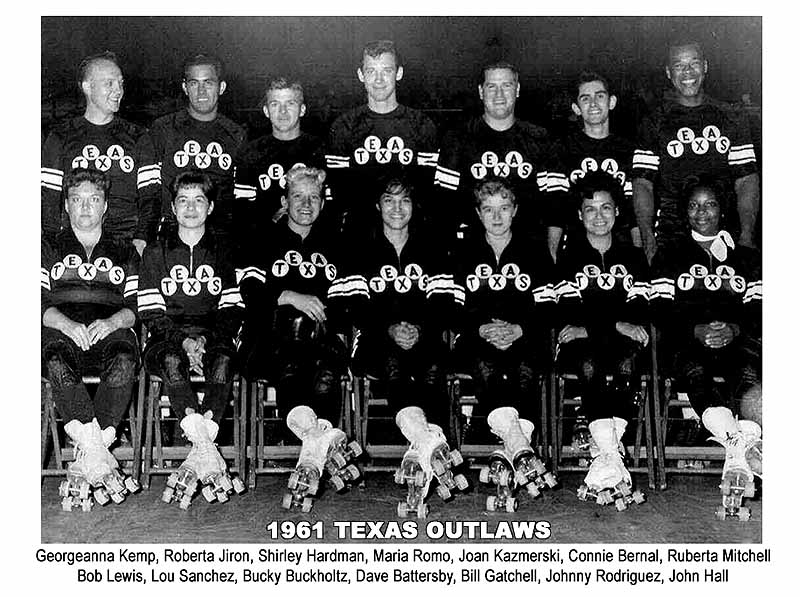 Photograph: Lou Sanchez, pictured here with the 1961 Texas Outlaws (back row, second from the left), was a professional roller derby skater from El Paso. Although the team briefly moved to El Paso for its 1963-1964 season, it was based mainly in California. Before 2003 roller derby teams were coed. (Image available on the Internet and included in accordance with Title 17 U.S.C. Section 107.)
In 2001 roller derby's third wave began in the punk rock scene on Red River Street, in Austin, Texas. Daniel "Devil Dan" Policarpo, then a local Austin musician, held a meeting at the Casino El Camino bar to recruit area women and start a local roller derby league. To achieve Policarpo's elaborate vision, which some have compared to a theater with circus elements, the group held fundraisers, organized teams, and worked out the structure of the league. In March 2001, according to the skaters, Policarpo took the money and left town. He claimed later that he used his money to rent the equipment and Austin's Mexican American Cultural Center as a venue for a fundraiser because the skaters did not turn over their ticket money or answer his calls. The women, however, continued without him and formed Bad Girl Good Woman Productions (BGGW) which created a league of four teams and worked out logistics of league rules, referees, medical care, insurance, venues, and live music during the games. Team captains included Heather "Sugar" Burdick of the Holy Rollers, April "Queen Destroyer" Ritzenthaler (also referred to as "La Muerta") of the Putas del Fuego, Anya "Hot Lips Dolly" Jack of the Rhinestone Cowgirls, and Nancy "Iron Maiden" Haggerty of the Hellcats. All founding members of BGGW, they collectively managed and assumed ownership of the league and with it, the nickname the "She-E-Os." Heavily influenced by the punk rock scene, each team had a unique theme such as "catholic schoolgirls" or "hot rod riders."
Photograph: TXRD play on a wooden banked track similar to those used in the 1930s and 1940s. (Image available on the Internet and included in accordance with Title 17 U.S.C. Section 107.)
The league held its first game on August 5, 2002, at Playland Skate Center in Austin and drew more than 550 attendees. Unlike the earlier co-ed versions of roller derby, BGGW was a women-only league and initially raced on a flat track instead of a banked track. BGGW maintained some of the theatrical elements used in earlier roller derby leagues. They used storylines and added a "Penalty Wheel" which required players to perform embarrassing tasks such as karaoke or being spanked by an audience member as punishment for a foul.
During the first year the league rapidly grew in popularity but suffered monetary setbacks, factional in-fighting, and loss of players due to severe injuries. In February 2003 the league suffered a severe blow when Amber "Diva" Stinson Howard, the league's "Penalty Mistress," died from a drug overdose. Later that year, budget and insurance problems exacerbated an ongoing power struggle between some skaters and the She-E-Os which led some frustrated players to split from BGGW and create the Texas Rollergirls League (TXRG). The She-E-Os quickly rebuilt, changed the league name to Texas Roller Derby Lonestar Rollergirls (TXRD), switched to a banked track, and then once stable, turned league ownership and operations to the skaters. TXRG continued to hold derbies on a flat track. The dispute was featured in the documentary Hell on Wheels (2007), directed by Austin filmmaker Bob Ray, and Rollergirls (2006), an A&E documentary series.
Though the revival of roller derby occurred in Austin, flat track derby spread quickly throughout the nation. Other leagues formed in Arizona, Los Angeles, New York, Tucson, and North Carolina. This led to the creation of the United Leagues Coalition (ULC), an online message board to help other leagues get started and list game schedules. In November 2004 the first interleague game occurred between the TXRG, Arizona Roller Derby League, and the Tucson Roller Derby League. A record-breaking number of fans attended these games.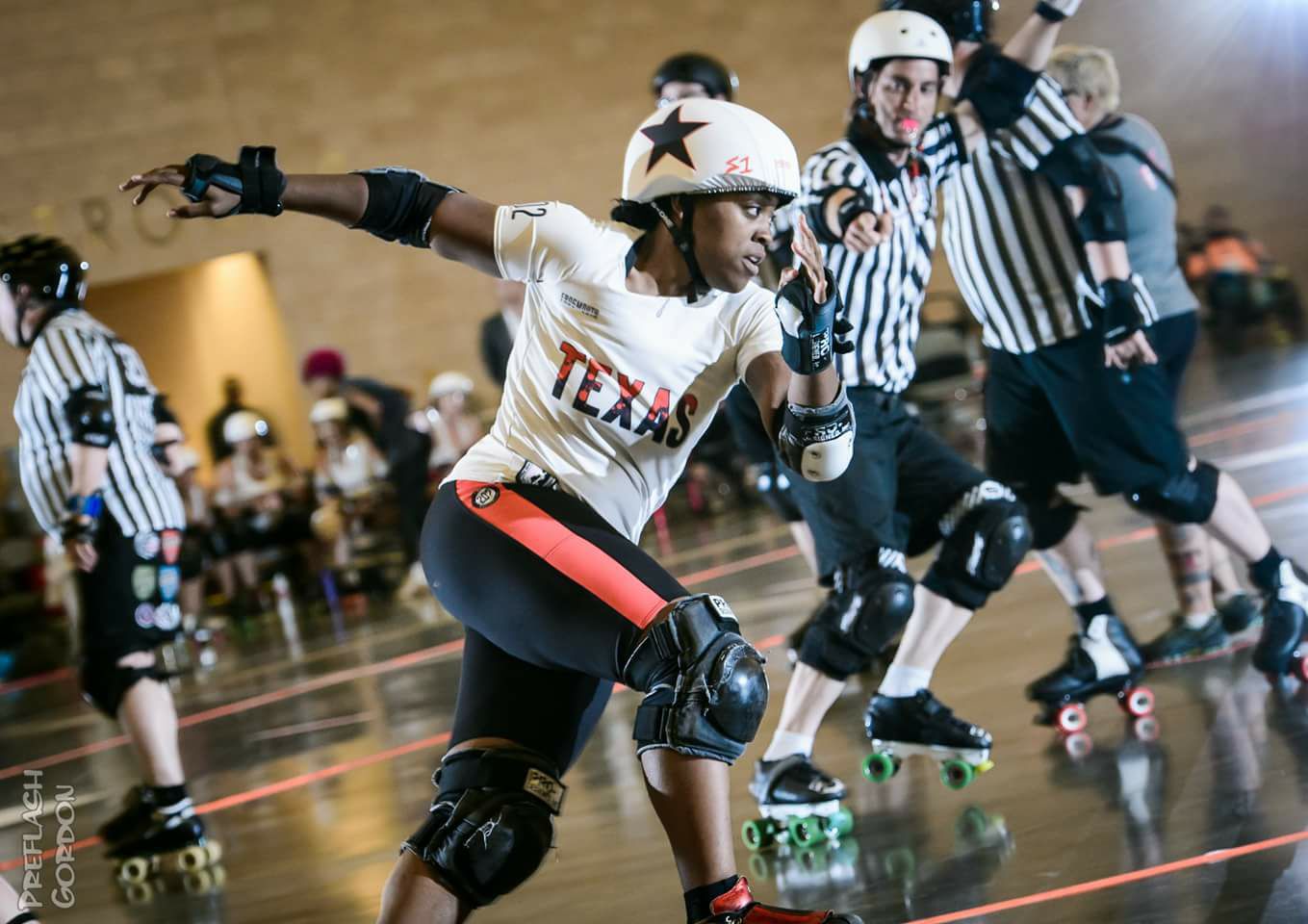 The revival of roller derby that started in Austin inspired women across the state and nation to get involved with the sport. In 2005 TXRG was one of the founding members of the Women's Flat Track Derby Association (WFTDA). In 2020 WFTDA had 451 member leagues on six continents. As of 2020 all of Texas's major cities have at least one women's roller derby league, including the Dallas Derby Devils, the Houston Roller Derby, the El Paso Roller Derby, and the Alamo City Roller Girls in San Antonio. In addition, in 2007 the Men's Roller Derby Association (MRDA) formed, which has a total of three Texas flat track leagues including Austin Anarchy, Houston Men's Derby, and the Texas Men's Roller Derby in Denton. In 2011 the TXRD joined with other banked track derby teams, including the South Side Girls League in Pearland, Texas, to form the Roller Derby Coalition of Leagues (RDCL).
Photograph: TXRG League favorite "Freight Train" skates for the Texecutioners, Hell Marys, and Team Texas. In 2018 she helped the Texas Rollergirls win the WFTDA International playoffs and named MVP (most valuable player). (Image available on the Internet and included in accordance with Title 17 U.S.C. Section 107.)
In 2016, thirty-nine-year-old Jennifer "Pixie Tourette" Nalley, a founding member of the TXRG and a graduate of the NASA Aerospace program, was murdered in Idaho. Her boyfriend was charged and sentenced for the murder of Nalley and her unborn child in 2018. Nalley skated for the TXRG Hotrod Honeys with an "i" instead of a number on her jersey which represented the imaginary number for the square root of negative one. Nalley's friends remembered her as a woman "who could fight like a badger and skate like the wind while telling you some arcane fact about the orbital trajectory of Neptune."
The popularity of Texas roller derby made it a trendy subject for media in the 2000s. In 2009 Drew Barrymore directed and starred in Whip It, a film based on the 2007 young adult novel Derby Girl about a young woman from a fictional town in Texas who joins a roller derby league in Austin. In addition, Melissa "Melicious" Joulwan, a former derby girl and co-founder of the TXRG who appeared in Hell on Wheels, wrote a book about her experiences with the sport, Rollergirl: Totally True Tales from the Track, published in 2007. In June 2020 the Netflix series Home Game featured TXRD in its fourth episode.