Posted April 11, 2022 to
News
.
FRANKLIN BEAUTY SCHOOL.Cosmetology and barbershops offered members of African American communities a certain level of economic independence during the early twentieth century when racial segregation in the United States limited employment opportunities. Black beauty schools provided the necessary training in cosmetology and related business skills for those entering into these professions. Racial segregation, through both law and social practice, meant that White salon owners who served White customers did not serve Black customers or hire Black beauty professionals. On the other hand, Black beauty shop operators ensured that African American communities had access to the services they needed, and some beauticians and barbers made their own hairdressing and tonics to provide specialized products for their customers.
Nobia Franklin, known as "Madame Franklin," a native of Cuero, Texas, moved to San Antonio in the 1910s, opened a salon inside her home, and sold her homemade hair products and other cosmetics door-to-door to Black families. In 1916 she moved to Fort Worth and briefly operated a beauty salon and opened a beauty school there. In 1917 she moved to Houston and opened the Franklin School of Beauty Culture and a manufacturing center for her beauty products. Ultimately, her school taught hair styling to thousands of young women who catered to the cosmetology needs of Houston's largely segregated Black neighborhoods. In 1922 Franklin took her business to Chicago. With her daughter Abbie, she established the N. A. Franklin Association of Beauty Culture in 1927 to martial an emerging group of sales agents for her beauty products and subsequently to establish their own salons. Franklin faced stiff competition in the Chicago area, and her decision to not patent her products relegated them to a more regional rather than national market.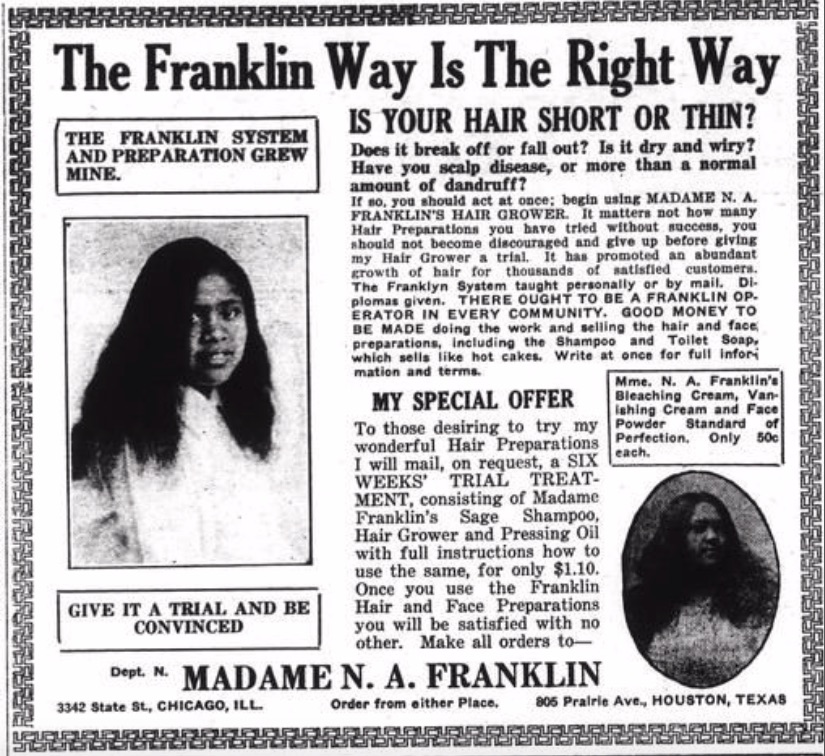 After Franklin's death in 1934, her daughter Abbie and son-in-law James Jemison, who had managed the Chicago beauty school, returned to Houston in 1935 and reopened the Franklin Beauty School permanently in Houston. With an African American Houston community of 64,000 and a Texas law requiring 1,000 hours of training for beauty operators, Houston provided a healthy market for the beauty school. Declaring the motto "The Franklin way is the right way," the Franklin school was the largest African American beauty school in the southern United States before desegregation. Hundreds of students graduated every year and opened and staffed beauty shops in Houston's African American neighborhoods, including the Third Ward, Fifth Ward, Sunnyside, and Independence Heights. In 1972 Jemison opened Franklin Beauty School No. 2 in Houston. He retired later that year, and his son Ronald Jemison and daughter-in-law Glenda took over business operations.
1924 ad for Madame N. A. Franklin beauty products in the Houston Informer. (Image available on the Internet and included in accordance with Title 17 U.S.C. Section 107.)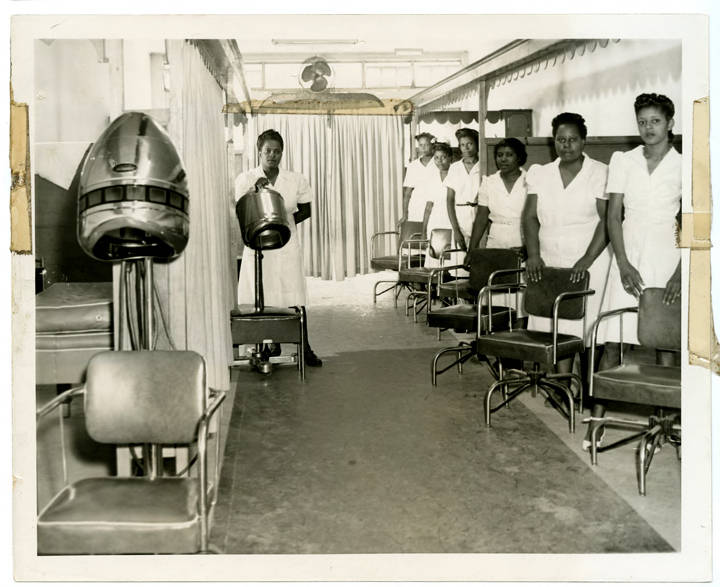 The school continued successful operations under the fourth generation of family ownership with CEO Ron Jemison, Jr., and by the 2010s claimed the title as the "oldest continuously-operating licensed cosmetology school in Texas," operating under a cosmetology school license from the state of Texas since 1935. In 2013 Franklin Beauty School was featured in a reality television series on Oprah Winfrey's network OWN. The school celebrated 100 years of business operations in December 2015, and Mayor Annise Parker proclaimed December 8, 2015, to be "Franklin Beauty School Day." At that time the business also received a certificate of congratulations from President Barack Obama. As of 2019 the school, which had undergone several name changes through the years, operated as Franklin Barber & Beauty Institute and offered a number of focused studies on various aspects of cosmetology and entrepreneurship to both men and women. The majority of students were African American.
Franklin Beauty School students at hair dryer stations in Houston, Texas. (Image by Cliff Richardson and part of the Franklin Beauty Schools, Inc. Collection at the Houston Metropolitan Research Center, Houston Public Library, and available on the Internet and included in accordance with Title 17 U.S.C. Section 107.)
The school also provided community services such as barber services for homeless veterans and back-to-school haircuts for children. The school, located at 4745 Hwy 6 North in Houston, belonged to the American Association of Cosmetology Schools and received several of awards, including the Sickle Cell Association Award of Excellence and Dr. Martin Luther King, Jr., Leadership Award.