Posted March 11, 2023 to
News
.
Click here
to view the details of this post.
JORDAN, BARBARA CHARLINE (1936–1996).Barbara Jordan, politician and educator, was born in Houston, Texas, on February 21, 1936, the youngest of three daughters of Benjamin and Arlyne (Patten) Jordan. She grew up in the Fifth Ward of Houston and attended public schools. Her father, a warehouse clerk and Baptist minister, assisted her in attending Texas Southern University, where she graduated magna cum laude in 1956. She received a law degree from Boston University in 1959 and passed bar exams in Massachusetts and Texas the same year. After teaching at Tuskegee Institute for a year, Jordan returned to Houston in 1960. She opened a law practice and worked from her parents' home for three years until she saved enough to open an office. She became involved in politics by registering Black voters for the 1960 presidential campaign, and twice ran unsuccessfully for state office in the early 1960s.
With the passage of the 1965 Voting Rights Act that resulted in the redistricting of congressional and legislative voting districts in Texas, and the increased registration of Black voters, Jordan was able to win election as a Democrat to the Texas Senate in 1966. She was the first Black state senator since Walter Moses Burton left office in 1883. She was the first Black state legislator elected to office since Robert Lloyd Smith was elected to the Texas House of Representatives in 1896. Eschewing a confrontational approach, Jordan quickly developed a reputation as a master of detail and as an effective pragmatist and gained the respect of her thirty White male colleagues. While in the legislature she worked for minimum-wage laws and voter registration and chaired the Labor and Management Relations Committee. In 1969 when the Equal Rights Amendment to the U.S. Constitution had been passed by Congress and sent to the states for ratification, Jordan in the Texas Senate and Frances "Sissy" Farenthold in the Texas House cosponsored its successful ratification by the state legislature. They took it one step further, however. They proposed an amendment to the Texas Constitution guaranteeing equal rights for women, which Texas voters quickly approved. In 1972 both liberal and conservative state senators unanimously elected her president pro tempore of the Senate. Former President Lyndon Baines Johnson, who was impressed with Jordan's leadership, took an interest in her career and opened doors for her with key donors and political leaders that facilitated her rise to higher office.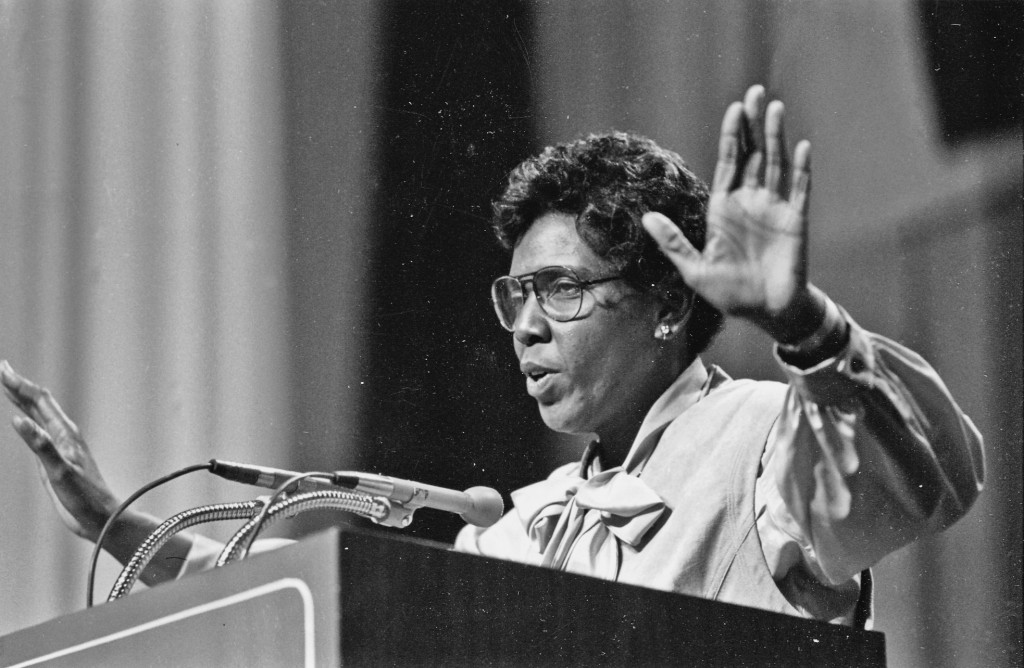 Photograph: Congresswoman Barbara Jordan. (Image available on the Internet and included in accordance with Title 17 U.S.C. Section 107.)
In November 1972 Jordan successfully ran for the United States House of Representatives from the Eighteenth Texas District in Houston. She was the first Black woman from a Southern state to serve in Congress, and, with Andrew Young, was the first of two African Americans to be elected to Congress from the South in the twentieth century. With her precise diction and booming voice, Jordan was an extremely effective public speaker. She gained national prominence for her role in the 1974 Watergate hearings as a member of the House Judiciary Committee when she delivered what many considered to be the best speech of the hearings. In that speech she asserted, "My faith in the Constitution is whole, it is complete, it is total. I am not going to sit here and be an idle spectator to the diminution, the subversion, the destruction of the Constitution." Impressed with her eloquence and stature in the party, the Democratic party chose her to deliver the keynote address at the 1976 Democratic national convention; she was the first woman and the first African American to do so. Her speech, which addressed the themes of unity, equality, accountability, and American ideals, was considered by many to be the highlight of the convention, and helped rally support for James E. Carter's presidential campaign and victory.
Jordan's most significant accomplishment in Congress was her successful effort to include Hispanics in the extension of the 1975 Voting Rights Act. She felt that the 1965 Voting Rights Act was the most important and effective civil rights legislation ever passed because it opened the doors for millions of African Americans in the South to participate fully in the political system. For Jordan, the right to vote was the paramount civil right. When the legislation was up for extension in 1975, Jordan felt that the same guarantees to voting rights and civic participation should be extended to Hispanics in Texas and throughout the Southwest. She was able to overcome significant opposition from conservative members of the Texas Congressional delegation, as well her own state's governor and attorney general, to give Latino voters the same legal protections that had been extended to African Americans ten years earlier. Her leadership to gain passage of this single act of legislation opened the doors for a new generation of Hispanic leaders on local, state, and national levels, and has had a major impact across the nation.
Photograph: Life-sized statue of Barbara Jordan in the Barbara Jordan Terminal in the Austin-Bergstrom International Airport. Created by California artist Bruce Wolfe. (Courtesy of the City of Austin.)
In 1979, after three terms in congress, Jordan retired from politics to accept the Lyndon Baines Johnson Public Service Professorship at the LBJ School of Public Affairs, University of Texas at Austin. She taught courses on intergovernmental relations, political values, and ethics. She published her autobiography, Barbara Jordan: A Self Portrait, in 1979. She served as ethics advisor to Governor Ann Richards in the early 1990s. In 1992 she once again delivered the keynote address at the Democratic national convention. Although effectively retired from politics, her call to service continued. President Bill Clinton appointed her to serve as chairwoman of the United States Commission on Immigration Reform in 1994.
Among Jordan's many honors were induction into the Texas Women's Hall of Fame in 1984 and the National Women's Hall of Fame in 1990. She received the Presidential Medal of Freedom in 1994. She suffered from a number of ailments in her later years, including a form of multiple sclerosis, and was confined to a wheelchair. She survived a near-drowning incident at her home in 1988 but succumbed to pneumonia and leukemia in Austin on January 17, 1996. At the time of her death, Jordan was survived by her longtime companion, Nancy Earl, with whom she lived in Austin, her mother Arlyne Patten Jordan, and two sisters, Rosemary McGowan and Bernie Creswell. Barbara Jordan is buried in the State Cemetery in Austin. Her papers are housed at the Barbara Jordan Archives at Texas Southern University.