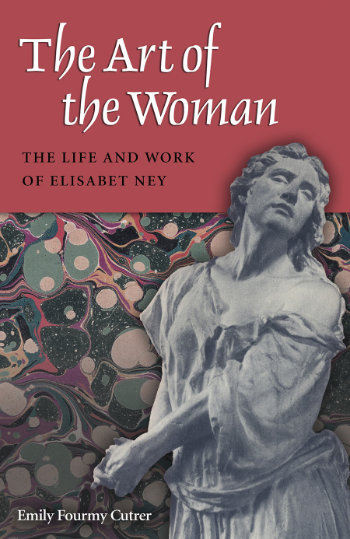 The Art of the Woman: The Life and Work of Elisabet Ney, by Emily Fourmy Cutrer, Reprint 2016
New Preface by the Author
Foreword by Nancy Baker Jones and Cynthia J. Beeman
The Art of the Woman explores the life of German-born Elisabet Ney, a flamboyant sculptor who transfixed the philosopher Arthur Schopenhauer and left the court of the half-mad Ludwig of Bavaria to put down new roots in Texas. Born in 1833, Ney gained notoriety in Europe by sculpting the busts of such figures as Ludwig II, Schopenhauer, Garibaldi, and Bismarck. In 1871 she abruptly emigrated to America and became something of a recluse until resuming her sculpting career two decades later. In Texas, she was known for stormy relationships with officials, patrons, and women's organizations. Her works included sculptures of Sam Houston and Stephen F. Austin and are exhibited in the state and US capitols as well as the Smithsonian.

Emily Fourmy Cutrer's biography of Ney makes extensive use of primary sources and was the first to appraise both Ney's legend and individual works of art. Cutrer argues that Ney was an accomplished sculptor coming out of a neglected German neoclassical tradition and that, whatever her failures and eccentricities, she was an important catalyst to cultural activity in Texas.
EMILY FOURMY CUTRER is president of Texas A&M University–Texarkana.