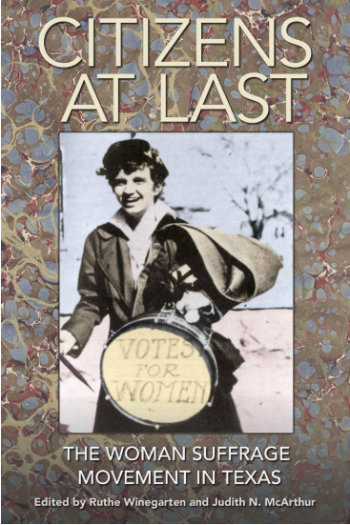 Citizens at Last: The Woman Suffrage Movement in Texas, General Editor, Ellen C. Temple
Edited by Ruthe Winegarten and Judith N. McArthur
Foreword by Anne Firor Scott, 1987; Reprint 2015
"There is so much to be learned from the documents collected here. . . . Where better than in this record to find the inspiration to achieve another high point of women's political history?"—from the foreword by Anne Firor Scott.
Citizens at Last is an essential resource for anyone interested in the history of the suffrage movement in Texas. Richly illustrated and featuring over thirty primary documents, it reveals what it took to win the vote.
RUTHE WINEGARTEN was an Austin historian and the author of numerous books, including Black Texas Women. JUDITH N. MCARTHUR is the coauthor of Texas through Women's Eyes: The Twentieth-Century Experience.
What Readers Are Saying:
"Citizens At Last makes a powerful stand for the rights on women and should be on the desk of anyone interested in politics and history." —
The Mexia News, February 2016