Bio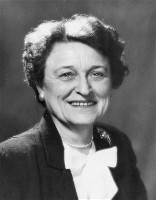 Sarah T. Hughes was an attorney, legislator, women's rights activist, United Nations supporter, and Texas' first female state and federal judge. A member of a Dallas law firm from 1923 to 1935, she was elected to her first term in the Texas House of Representatives as a Democrat in 1930 and voted "Most Valuable Member" her second term. In 1935, she became Texas' first female district judge and was reelected seven times. Hughes ran unsuccessfully for the U.S. Congress in 1946 and the Texas Supreme Court in 1958.
She was national president of the Federation of Business and Professional Women's Clubs in 1952. The national organization spearheaded her nomination for the vice presidency on the Democratic Party ticket that year, the first woman ever considered, though she withdrew her name.
Hughes helped secure an amendment to the Texas Constitution allowing women to serve on juries in 1954 and headed the Dallas United Nations Association in the 1950s. In 1960, she was Dallas County co-chair of the Kennedy-Johnson campaign, and the following year, President John F. Kennedy appointed her Texas' first female federal judge. After Kennedy's assassination in 1963, she administered the Presidential oath of office to Lyndon B. Johnson.
Audio
Written by Cynthia J. Beeman
Read by Khotan Shahbazi-Harmon
Primarily known as the judge who administered the presidential oath of office to Lyndon Johnson aboard Air Force One after the assassination of John F. Kennedy in 1963, Sarah Tilghman Hughes had a long and distinguished career as a Texas attorney, legislator, jurist, and women's rights activist. A graduate of George Washington University Law School, she married George Hughes in 1922, the same year she began practicing law in Dallas. In 1930 she won a seat in the Texas House of Representatives, becoming, at 34, the youngest woman elected to the legislature. Reelected twice, she supported a number of progressive measures including prison reform and married women's property rights.
Hughes became Texas's first female state district judge when Governor James Allred appointed her to the 14th District Court in Dallas in 1935. Reelected seven times, she believed government was "for the powerless and the poor," continued to advocate for women's rights, and in 1954 helped win the fight to allow Texas women to serve on juries. President Kennedy appointed her the state's first female federal judge in 1961, and during her years of service she presided at many high-profile cases, including Roe v. Wade in 1970 and the Sharpstown bank fraud suit that ended the careers of several high-ranking Texas legislators and other state officials in the early 1970s.
Judge Hughes retired from the bench in 1982 and died at age 88 in 1985.
Resources
Jones, Nancy Baker and Ruthe Winegarten, Capitol Women: Texas Female Legislators, 1923-1999. Austin: University of Texas Press, 2000.
La Forte, Robert S., "HUGHES, SARAH TILGHMAN," Handbook of Texas Online (http://www.tshaonline.org/handbook/online/articles/fhu68).
Biography Source Information
Biographies are reprinted from the Foundation for Women's Resources (now Women's Resources), Dallas, Texas. They originally appeared in "From Gutsy Mavericks to Quiet Heroes: True Tales of Texas Women," video study guide, Austin: The Foundation for Women's Resources, 1997. Death dates have been added where needed.
Audio Source Information
Our project, "Texas Women's History Moments," received the 2012 National Council on Public History Outstanding Public History Award and the American Association for State and Local History Leadership in History Award. The audio clips were broadcast on KUT radio from 2011-2016 during Women's History Month.