WELCOME TO womenintexashistory.org!
Welcome to the portal for all things historical about women in Texas. Students, teachers, researchers, and Texas history lovers will discover stories about all kinds of women, and find links to many sites for more information related to Texas women's history.
Students and teachers will find:
Women in Texas History (WITH) is a project of the Ruthe Winegarten Memorial Foundation for Texas Women's History, which is exempt from Federal income tax under section 501 (c) (3) of the Internal Revenue Code. Your contributions to the foundation are tax deductible.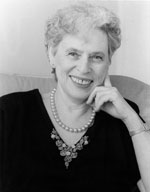 This site is dedicated to the memory of Ruthe Winegarten, writer, historian, activist, and persistent advocate of the study of Texas women's history. A tireless researcher and prolific writer, she was the author or co-author of 20 works on women in Texas history. Of Ruthe, Ann Richards said, "Her commitment to having the stories of women's lives be a part of our history was a driving passion in her life." Learn more about Ruthe's life and work.
RWF Launches Book Series with TAMU Press
The Ruthe Winegarten Foundation for Texas Women's History, in collaboration with Texas A&M University Press, is pleased to announce a new book series, Women in Texas History. Foundation board members Nancy Baker Jones and Cynthia J. Beeman will serve as the series general editors.
The Women in Texas History Series will publish works for an audience of historians, teachers, students, and the public. These may focus on individual lives, events, and time periods, or aspects of gender, race, class, and culture. Books in the series will include historical works of broad interest to the public as well as those useful to professionals.
Individuals interested in submitting manuscripts for consideration should send a description of the project and its projected date of availability for review to the following:

Nancy Baker Jones, Ph.D.
President, Board of Directors
Ruthe Winegarten Foundation for Texas Women's History